Orange Pi Lite is an open-source single-board computer with wireless WiFi. It is highly compact with a dimension of 69X48mm.
Product introduction
WiFi

HDMI output

CSI camera port

512MB/1GB DDR3 SDRAM

Multiple operating systems

USB 2.0

Powered through DC

Cortex-A7

TF card

40pin headers
It uses the Allwinner H3 SoC with Quad-core Cortex-A7, and has 512MB/1GB DDR3 SDRAM. It can run Android 4.4,Ubuntu,Debian image. Orange Pi Lite offers a range of different ports, including HDMI output, 40pin headers,USB 2.0, CSI camera port, TF card slot, etc. It is powered through DC.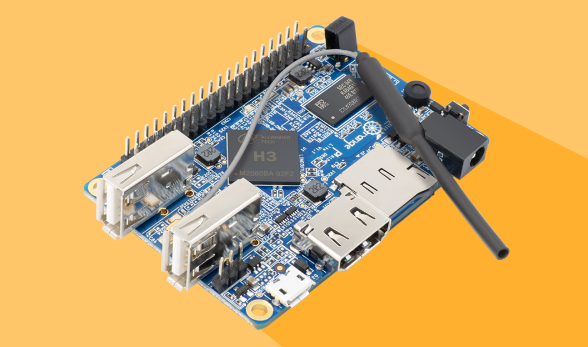 Orange Pi Lite is for anyone who wants to start creating with technology- not just consuming it. lt's a simple, fun, useful tool that you can use to start taking control of the world around you.
AllWinner H3 SoC, Powerful Performance

Multiple functional interfaces

Integrates the popular HDMI, CSI camera port ,USB 2.0,etc.
Your choice of RAM
We're making different variants of the Orange Pi Lite available, depending on how much RAM you need — 512MB or1GB.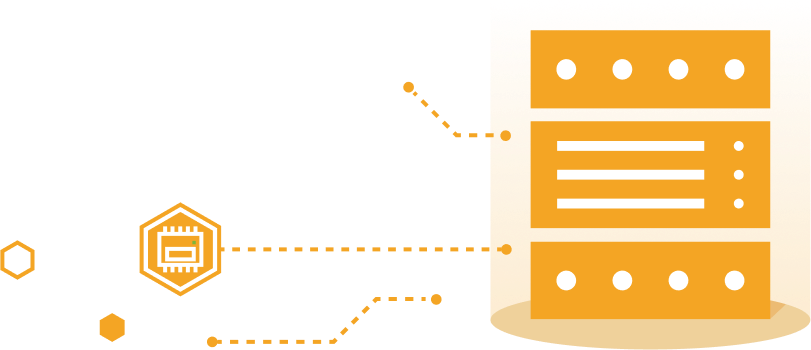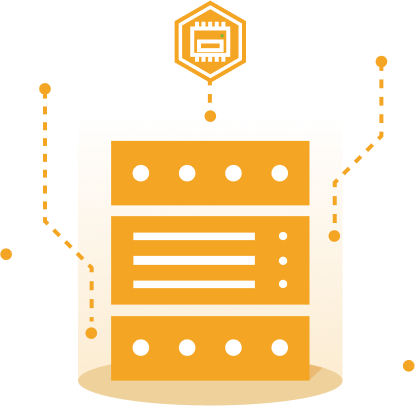 Hardware specification
CPU
H3 Quad-core Cortex-A7 H.265/HEVC 4K
GPU
• Mali400MP2 GPU @600MHz
• Supports OpenGL ES 2.0
Memory (SDRAM)
512MB/1GB DDR3 (shared with GPU)
Onboard Storage
TF card (Max. 32GB) / MMC card slot
Wifi Antenna
Yes
Video Input
• A CSI input connector Camera:
• Supports 8-bit YUV422 CMOS sensor interface
• Supports CCIR656 protocol for NTSC and PAL
• Supports SM pixel camera sensor
• Supports video capture solution up to 1080p@30fps
Audio Input
MIC
Video Outputs
• Supports HDMI output with HDCP
• Supports HDMI CEC
• Supports HDMI 30 function
Audio Output
HDMI
Power Source
DC input, USB OTG input don't supply power
USB 2.0 Ports
Two USB 2.0 HOST, one USB 2.0 OTG
Buttons
Power button
Low-level peripherals
40 Pins Header
GPIO(1x3) pin
UART, ground.
LED
Power led & Status led
Key
POWER
Supported OS
Android Lubuntu, Debian Image
Interface definition
| | |
| --- | --- |
| Product size | 69mm × 48mm |
| Weight | 60g |
Top view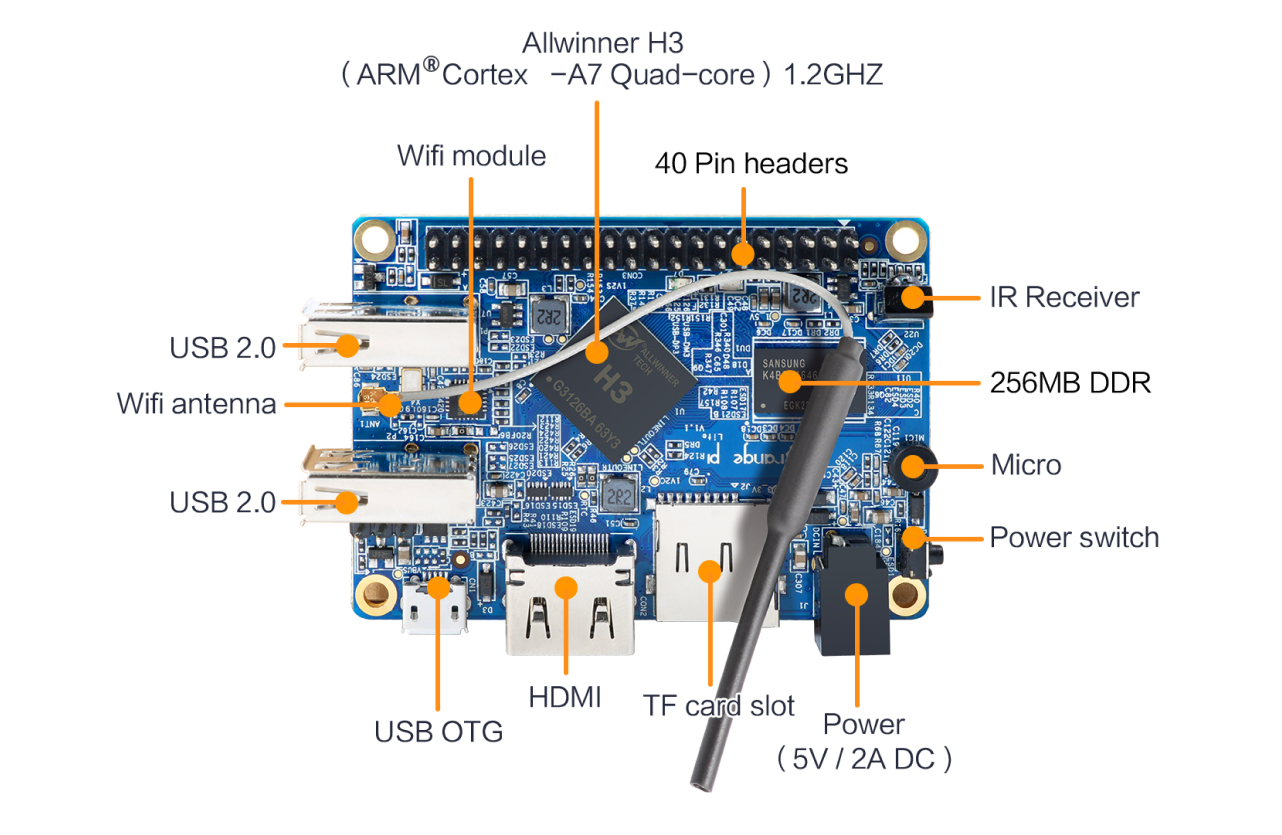 Bottom view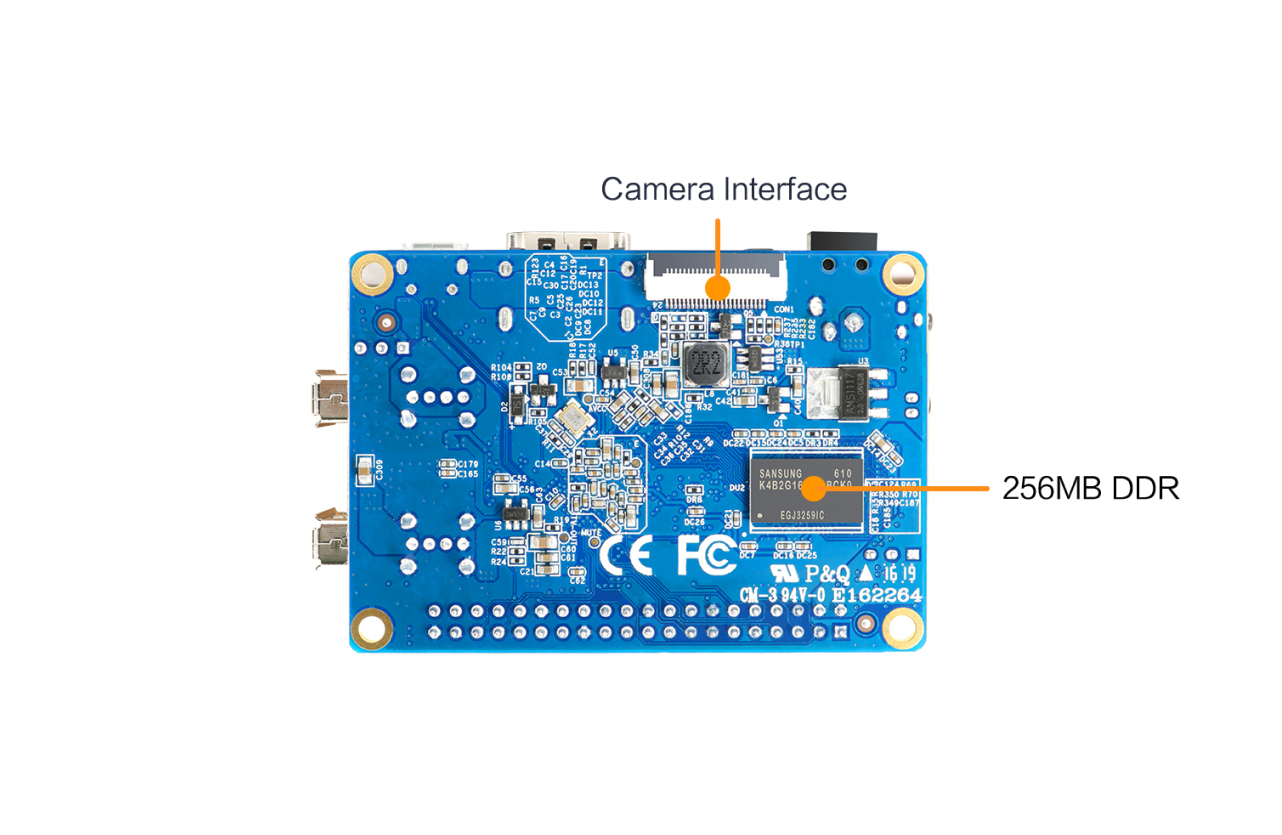 Orange Pi Lite v1.2 pinout diagram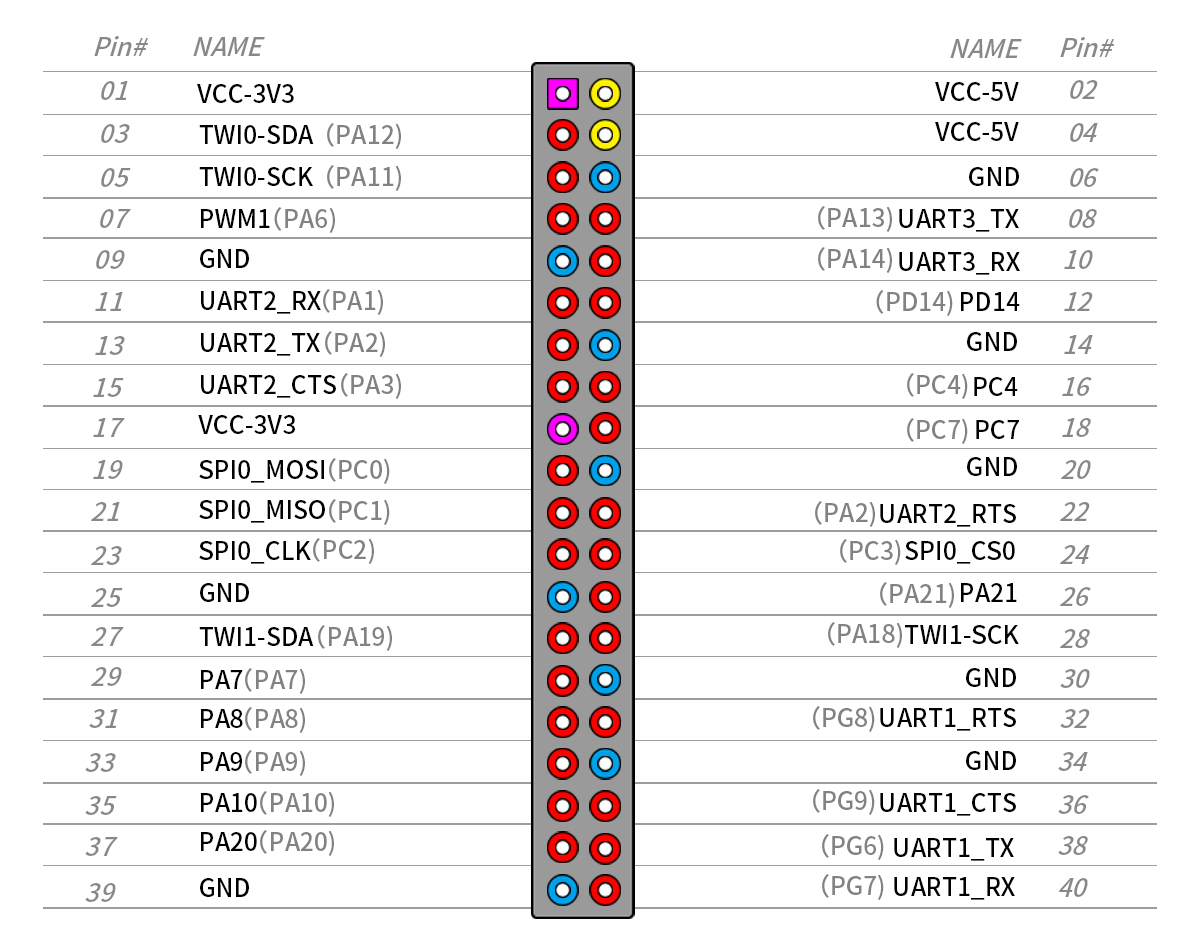 Completely open source maker artifact

Orange Pi Lite runs Android

Orange Pi Lite runs Ubuntu

Orange Pi Lite runs Debian
Product display

What can l do with Orange Pi Lite?
You can use it to build-…
Pretty much anything else, because Orange Pi Lite is open source